Ganzo&Firebird company is constantly moving forward, using more higher quality materials, improving the assembly and processing quality of the final products, as well as expanding its range. And the F804-FS model has become a very unexpected addition, which will surely be enjoyed by many lovers of high-quality and reliable tools.
Equipment
The Firebird F804-FS model has a rich package, which in addition to the machete also includes a branded nylon carrying case with a removable belt and a hip mount, a single-sided sharpener and a flint with a chair, which are in a small removable cover.
Design and ergonomics
Machete, as well as sharpener and flint with a chair have a simple and concise design, without any fancy elements. That is, when you look at the machete and its accessories, you immediately realize that this is a purely working tool, and not a decorative knife, which can only be stored on a shelf.
However the covers of nylon (both large and small) have bright inserts of yellow color, which stand out well against the background of low grass or just on the ground, making it easy to detect a machete from a distance of several meters.
Blade
Model Firebird F804-FS is a typical kukri. Its blade is curved and expands towards the tip. Thanks to this form, it is much easier to perform chopping actions. Moreover, when you first take this machete in your hands, you feel like waving it at all or throwing it at all.
Blade length is 286 mm (thickness at the butt ~ 3.5 mm). Taking into account the total length of 440 mm, this machete can be called the "middle" version among models of this class. F804-FS is not too large and not small. Great for cutting shrubs, cattail, reeds and small branches.
For the manufacture of the blade used high carbon steel grade 5Cr14, hardened to a level of ~ 54 HRC. This material is resistant to shock loads, however, without proper care, it can be affected by corrosion and with intensive use, the blade made of steel 5Cr14 loses sharpness relatively quickly. However, it should be noted that almost all modern machetes are made from similar materials and have +/- similar "characteristics". But, in the case of the Firebird F804-FS model, its blade has a black protective coating that prevents the formation of corrosion and does not allow the surface of the blade to blinking in the sun or from other light sources. And in the kit there is a pretty good sharpener, which allows you to quickly restore the machete sharpness, even with a strong "ground" of the cutting edge.
Handle
The handle of the Firebird F804-FS model is massive and with a monolithic construction. It is entirely made of rubberized plastic and does not assemble, that has a positive effect on the strength of the machete as a whole, and ease of use. In addition, rubberized plastic, although a little, but absorbs shocks, reducing the load on the user's hand.
Due to the deep grooves under the fingers and the textured surface, Firebird F804-FS machete does not slip out of hands even when working in gloves or when wet. On the other hand, it should be noted the rather large size of the handle. Owners of small palms may be slightly uncomfortable given a machete.
In the end part of the handle there is a hole under the lanyard. It is rather wide and a safety lanyard is easily passed through.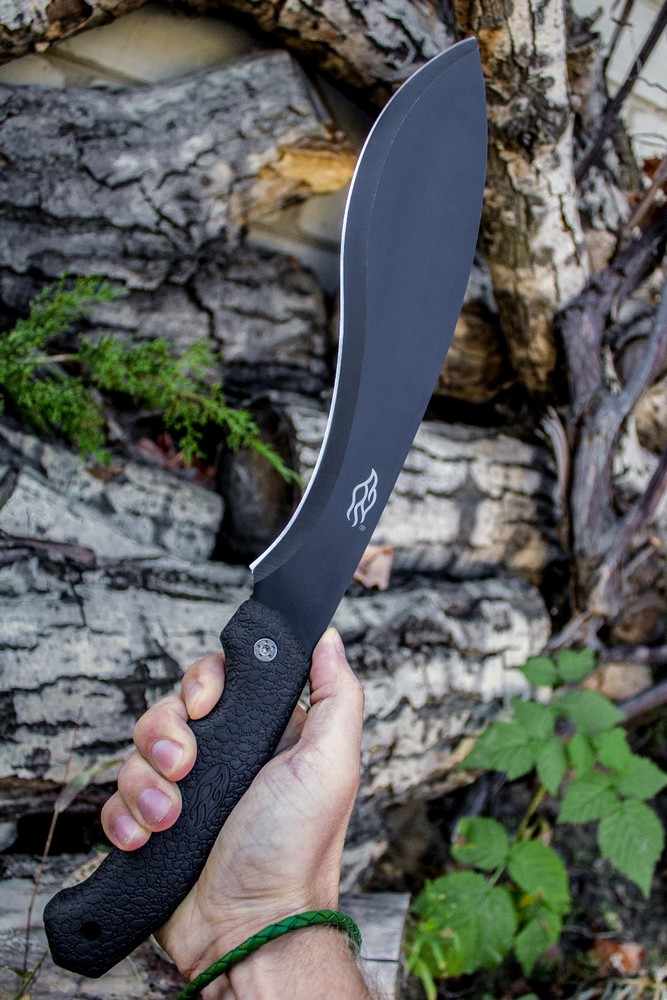 Simple, convenient and reliable, what else do you need from a machete? In addition, this model comes with a carrying case and a sharpener with a flint / chair. Thus, with this kit you will always have a sharp machete and you can make fire in the field.
For whom? For fishermen to make their way through coastal thickets, for tourists making their way through a dense forest and for those who often work with plants, for example, with corn or something similar.